CONTACT US
Our marketing suite is now open Monday to Friday with a sales team on site to welcome you offer advice, tour our show apartments and show you detailed plans and our room settings.
Company Details:
Eden Retirement Living Ltd, 12 Conqueror Court, Sittingbourne, Kent ME10 5BH. Registered in England & Wales No. 10479840.
Pearl House
Call us on:
01635 551229
Contact us:
OUR ADDRESS:
Pearl House Marketing Suite
Oddfellows Road, Newbury Berkshire RG14 5PL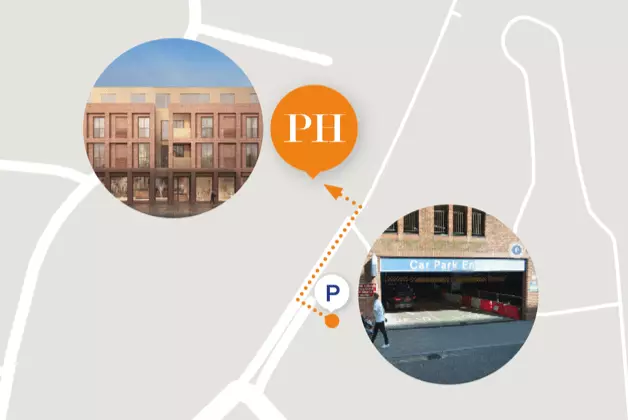 Visit us
From Newbury Station
Newbury Railway Station is on Station Road, Newbury, RG14 5LL with direct links to London Paddington.
We are just a short walk from the station (aprox 7-8 minutes). When you leave station, make your way to the ticket office side, turn right out of the station and follow the road bearing left (part the Pageant Party shop) towards Cheap Street. Join Cheap St and keep to the left until you join the intersection with Market St (you will see the Vue Cinema straight ahead). Turn left onto Market St and continue to the intersection with Bartholomew St (you will see Hogan Music on the right hand side). Join Bartholomew St, walking with the Kennet Centre to your right. Continue along Bartholomew St, you will come passed the Newbury Gastro Pub, (you will see the rear of the Pearl House development opposite). Continue a short way and turn left after The Ugly Duckling Pottery and before St Nicholas church, onto W Mills and left onto Oddfellows Rd. The Marketing Suite and Pearl House entrance is found on your left.
By Car
The marketing suite for Pearl House is located on Oddfellows Road, Newbury, West Berkshire, RG14 5PL – just a ten minute drive from M4 Junction 13 Chieveley.
Use RG14 5PL in your Sat Nav.
Free parking is on site in front of the entrance.
Download directions